Kuda app is an online banking platform that allows you to make transactions easier. The app helps you to send and receive money, you can ask well use them to pay your bills and buy airtime or credit of any network of your choice. This focus on Kuda App review and how to make money from it.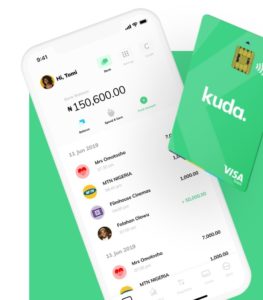 The company is currently running a promote that allows her users refer friends and earn N200 per successful referral. In this article I will be showing you how to make money using Kuda app.
EARNING PROOF BELOW
I just got alert from Kuda app.. N5,000 Naira

Then I transferred The Money To My Local Bank account 😍😍😍

Finally Got The Alert To My GTBank Account

New Cash From Kuda APP ( Already In My Bank Account)

How It Works
This application allow you To earn N200 per successful referral.
It does not require ID verification like Chipper cash.
All your referral earning will be credited to your Kuda account on Mondays.
You can redeem your referral bonus as airtime or transfer it direct to your bank account.
How To Make Money On Kuda App ( Earn N200 For Free)
The first step to make money using Kuda App is signing up with them. I will give you a guide to sign up with them.
Click Here To download Kuda app.
Install an launch the app.
Now register with them using your details, phone number and email address. Join with this code: IROR4JMZ ( It is Very Important If You want To Make Money from The app)
Please add the BVN option, tap the option "Add Your BVN the  app is trusted "
Continue and add your original details.
Now take a selfie to verify your account. Click on take a self option and set your phone camera to front. Make sure that your selfie is straight to get verified easily.
After successful registration, now your Kuda account number will be shown to your.
Fund Your Account with at least N100 so that you can make money from the platform.
How To Refer Others And Earn Using Kuda App
Like I promised you before that I will show you how to earn N200 per referral.
• Login into your kuda Account
• CLICK on More options at the bottom right ( it is like a square with dots)
• Click on Reference and Earn
• Now copy your link and make sure that your friends download Kids App using the link.
My team share opportunity like once it is available. We test it and tell you guys what that works. To enjoy and receive update from us JOIN OUR TELEGRAM GROUP.
Airtel Free Data Offer 9GB For N2000, 1GB For N300
Best Money Lending Apps In Ghana – Borrow GHC 1500 In Few Seconds
Vodafone Free Data 2019 Enjoy 200gb Free Data
Airtel Free Internet App Download With Browsing Cheat Settings
Jamb CBT Expo | 2020 Jamb Runz | Jamb CBT Runz Whatsapp Group Link
Waec Expo Whatsapp Group Link 2020 : Waec Expo Group 2020
Use the social media button below to share with friends and family…. Happy money making. Make Money Using Kuda App review