In this article, I will be sharing how you can enjoy 10 to 20GB of data using your Airtel cheat. This cheat is Ghana Airtel Free Data 2020, sorry to other country users, it is available to only Ghanaians.
This Airtel free data cheat for Ghanaians have been tested by our friends and Ghana. It is working very well. To enjoy follow our guide and enjoy.
This cheat uses Airtel Tigo Sunday bundle gives you 1GB for just 30pws. This plan is meant to work only on Sundays. With the help of our VPN settings, you will use it to power all the apps in your phone.
How To Activate Airtel free data cheat – Airtel Tigo Sunday Data Plan.
You need an Airtel Tigo sim
Open your phone notepad and dial *111*3#, then select 4 to subscribe to Sunday special offer. The data plan price is 30pws.
To connect to EC Tunnel VPN, you'll need small data to connect. So you have to activate an offer which is 50pws.
Dial *500#, then select 1, proceed and Select 1 again to buy 25MB for 50pws.
Now let's see how much you  spent (30pws + 50pws = 80pws) for 1GB.
The good news is that you can repeat the above step ( activating the 30pws plan which is Sunday Special) and accumulate more data. As much data as you want.
Follow the settings below to use the data and power all apps.
Now install EC Tunnel VPN from Playstore by Clicking Here
After downloading and installing the app, launch it.
Server section, select any country of your choice.
In tweaks section, select GH|Airtel Tigo Sunday Special.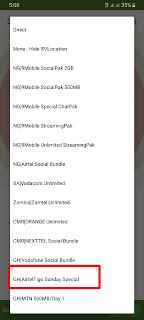 Now tap on the green circle to connect. Wait for 10 seconds and get connected.
Once it is connected, start browsing and downloading.
How To Enjoy Airtel Free Data 1GB For Free
Airtel 2020 Data Cheat – Enjoy 600MB Data Working Perfect
Ghana Airtel Free Data Cheat 2020 – 14 Days Unlimited Browsing
Best Airtel Free Internet Tricks For Android 2020 [ 60GB Free ]
Airtel Cheat Codes For Free Recharge 2020 – Enjoy Free 4.6GB
How To Get Free Internet On Airtel Sim 2020 ( 100% Working)
Hope it this Ghana Airtel cheat 2020 worked for you? Please use the share button to share with friends.